Welcome to Willow 4's class page.
Welcome to Willow 4
The adults who work in this class are
Miss Teladia, Miss Sharif and Mrs Cromack.
Our Vision Statement
We are Willow 4. We are at Bywell to learn and have fun. We will strive to be sensible, kind and caring role models. We will treat others like we wish to be treated. When people walk in to our classroom, they will see a calm classroom with a team of hardworking children enjoying their learning.
General Information
Our P.E days are Monday and alternate Tuesdays.
Please make sure your child has got the correct PE kit, weather depending PE could be indoor or outdoor. Trainers will be needed for outdoor PE.
Starting from Autumn term 2, we have introduced a new homework policy. This includes a requirement for your child to read three times a week, access TT Rockstars for times table practice and also practising the spellings set for that week. There will be no other paper homework set however, children are encouraged to practice key skills to further develop their knowledge. if they wish.
Children will also be set half term holiday homework with an element of art and design based on topics taught in the curriculum.
We have an open door policy on a Tuesday, so please feel free to come and see us then. If this isn't convenient then please arrange an appointment.
This week's learning - Week beginning 04.11.19
English: In English this week we will starting our new topic-persuasive writing. We will start the week by sampling some delicious Oreo cookies which will then help us to write a piece of persuasive writing to persuade others to try the biscuit. We will then move onto looking at persuasive techniques and different persuasive texts and their purposes.
Maths: In Maths this week we will be begin with a practical lesson, sorting out different equipment into weight, length and capacity. We will then be looking at conversion between mm, cm and mm before moving onto working out the perimeter of shapes.
Autumn Term

Science: In science this half term we will be looking at materials and their properties before moving onto electricity and learning how to make circuits.
History/Geography: This half term our topic will be Vikings. We will be looking at where the Vikings travelled from, their lifestyle and the impact that they made on the countries they invaded.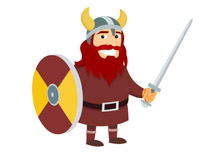 Computing: We will be looking at Online Safety, learning all about phishing scams, computer viruses and plagiarism, as well as healthy screen time. We will then learn about coding and make an interactive game using the skills we have learnt.
RE: This term our topic is going to be focusing on how important events are recognised in different faiths including Judaism, Sikhism, Hinduism and Ancient Civilisations. This will be followed by understanding the different faiths in our community and the contribution we can make.